DON'T MISS
Legs are probably the most ignored part of every woman's body. Facial beauty often is given utmost importance over any other part of the...
NATURAL NEWS
Blackheads are one of the most common skin and beauty concerns. People of any age no matter how old or young they are can...
Bacterial vaginosis is also referred as bv. It is a very common and mild vaginal infection mostly diagnosed in women. This infection is caused...
MOST POPULAR
Suffering from an incessant pain on your finger? Can't even move your finger properly? Then chances are your finger may be jammed. Categorized as...
LATEST
Depression and Anxiety are two of the most commonly known metal health conditions diagnosed in people these days. Persistently sad feeling, dejected or loss...
WELLNESS BELLS
It is a common situation that most of us must have had to deal with – hair breakage! Most of us reach out to the...
A perfectly toned butt is what every woman's envy and dream. But there is a lot of hard work that goes behind achieving that...
Get a Bikini Body with or Without Equipment's Wanting to have the confidence to don a bikini this summer season but the little sweet indulgence...
An itchy and tickly throat can cause lot of discomfort to you. Here, many people mistakenly think that, going with the mainstream medicine is...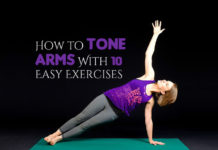 Tired of flabby and jiggly arms? wondering How to Tone your Arms ? Embarrassed to flaunt your arms in a sleeveless T-shirt? Then here are the few...
HOT TIPS
You obviously tend to get worried when you notice peeling skin on hands. How to treat the condition? Should I rush to the dermatologist?...